All over Western Australia including Perth, swimming pools are being installed with glass pool fencing.
It is very important that swimming pools must have glass pool fence all over the perimeter.
Installing glass fences around the swimming pool is one of the most effective ways to reduce accidents in and out of the pool area without destroying the design and beauty of the surroundings.
Sure, there is no other safest way for children to enjoy in a swimming pool than having their own parents watch over them.
But, it's not every second that parents can keep a watchful eye on their kids.
What if everybody is having a good time or what if father is busy cooking roast beef while mother is arranging the dishes and nobody is looking after the kids?
If you have your own pool, you should know some glass pool fencing ideas.
But first, you also need to know the different kinds of design for glass pool fencing in Perth. You also need to know different pool fencing regulations.
Pool Fencing Regulations
In Perth, there are many regulations for swimming pool owners to follow, be it a private swimming pool or a commercial swimming pool like those in resorts.
• If the pool is over 300mm deep and if the pools were installed after July 1, 1992, owners should put up a pool fence between the house and the pool area.
• But, before building a swimming pool or installation of pool barriers or alteration of such including gates, doors and windows which provide access to the pool area, the owner should secure first a building permit.
• Spas or spa pools are also required to have pool fence. Spa pools include Jacuzzis and outdoor hot tubs. But, this doesn't include spa baths since they are emptied with water after every use.
• Portable wading pools should also have their own fence or barriers provided that they don't have 300mm of water. But, the government strictly reminds parents that even though shallow wading pools don't require fences, they still need to watch over their children for safety.
• If there are some trees that can be scaled by children and it is near the swimming pool area, those trees should be removed or relocated at least 1.2m away from the pool fence.
• Pool fences should have a height of 1200mm and must have a clear distance of 900mm between horizontal surfaces.
Today, when talking about glass pool fencing designs, you can actually find a lot of options that are aesthetic, meaning; you can choose a glass pool fence design without compromising the beauty of your surroundings.
Here are some of the best designs for glass pool fencing: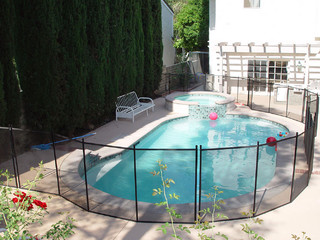 As you can see, these glass pool fencing designs will not give away the beauty of your surroundings.
You can see they can even make the surroundings cleaner and more beautiful.
Fortunately, these types of pool fence designs are being offered by many installation companies all over Perth.
You can actually find the best one near or within your area, ask around or go online for convenience and ease in looking for the best professional and reliable glass fencing installation company in Perth.
References:
http://www.landscapingnetwork.com/fencing/pool.html
http://www.houzz.com/swimming-pool-fence